PRIMA WANTS TO INCREASE MARKET SHARE WITH AUTUMN SCHEME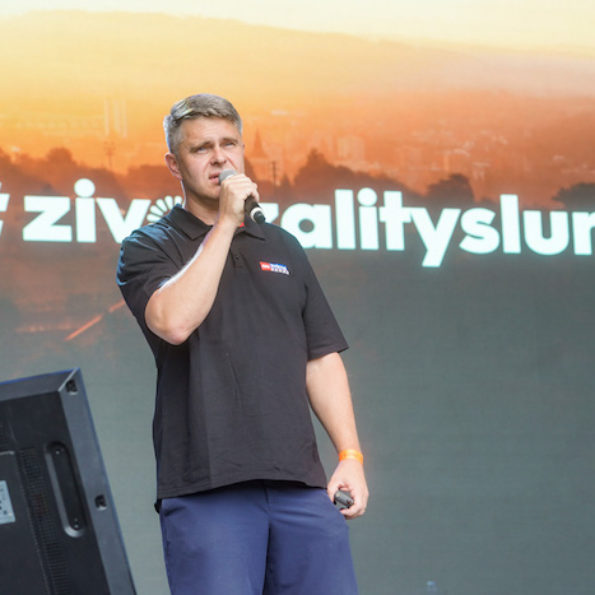 29. 8. 2022
New shows in the autumn schedule of TV Prima's main channel should contribute to a further increase in the Prima Group's share of the TV market, believes CEO Marek Singer.
Three new prime-time series or a new entertainment show will appear on the Prima Group's main channel this autumn. Among the new series, there is the Pálava series, which is loosely based on Vinaři, as well as the Hořký svět series, which introduces the environment of a microbrewery, and Dobré zprávy, which is set in a TV background. The licensed entertainment show Můj muž to dokáže will also premiere, in which men perform bizarre tasks and their wives bet on their performance. At the same time, the premiere episodes of ZOO, the most watched show on TV Prima last season, will continue. With the new shows, Prima hopes to at least maintain, but better yet increase, its share of the ratings. In last year's autumn season (1 September-31 December 2021), the Prima group achieved a share of 26.76% in the 15-69 audience group, up one percentage point year-on-year (source: ATO-Nielsen Admosphere).
Marek Singer, CEO of the Prima group, also notes that all the main TV channels have prepared for the autumn season and that Prima's broadcasts will not be without a preponderance of original shows. Prima has also started production for its upcoming pay video-on-demand (VOD) platform, which it plans to launch this autumn. It is thus arming itself with production on two fronts. "Investing in original productions today is a ticket to the game and also to the future. Local content is crucial," he says in an interview.
The autumn scheme of the Prima group's main channel is generally set in a rather optimistic and positive tonality, which is also underlined by the campaign slogan "Life filled with sunshine" that accompanies the launch of the scheme. Was this the intention?
It is our intention. By nature, we believe that television is primarily a relaxing medium. Although all the emotions it brings are not always positive, in our view they should prevail. Added to this is the fact that the mood in society is not cheerful because of fears about future developments. This makes the audience all the more eager to see something optimistic on the screen.
For example, of the original detective shows that have flooded TV screens in recent years, you don't have any this autumn...
It's true, we don't have any detective shows this fall, but that's also due to the competition's programming. If Czech Television and Nova are tuning their Mondays into the detective genre, it doesn't make sense for us to come up with another detective series. We have the experience from last autumn, when we broadcast a series from a rural environment told with kind humour on Mondays - Hvězdy nad hlavou. It worked well because it was complementary to shows on other stations. Not all viewers are fans of crime dramas, and rather than go with another similar series, it's better to choose an alternative.
Do you have experience from earlier years that Prima's audience is more likely to seek out more comedy and family-oriented types of shows, and that you hit your audience more with that focus?
We are convinced of that. We know from various segmentation studies on TV viewers that Prima is perceived as a friendly and family-oriented TV station. This perception does not arise on its own, because it is linked to the expectations that viewers have of us. That is why a dark Nordic-style series will not be so successful on our air, but will be watched on Czech TV because that is where viewers expect it. It has to do with a strategic decision and with positioning how to profile ourselves to the viewer.
"If Czech Television and Nova are tuning Mondays to the detective genre, it makes no sense for us to come up with another detective series."
You are launching three new series this autumn, are continuing with ZOO and are also launching a new entertainment show. What are your expectations for the fall in terms of ratings?
In general, we expect to be at least as successful as last fall.
So the goal is to achieve a comparable share or ideally higher...
Yes, ideally we would like to get more. It may sound immodest, but we can see that all three major TV stations have prepared for this autumn and the competition is increasing. We're building on the success of last autumn. We've strengthened the schedule from last year, so if we can do comparable to last year or even a little better this year, we'll be happy.
Any guesses on how your newcomers will do?
That's a tough one, because you have to factor in what times and against what shows they will be aired. Hořký svět could make it, Pálava builds on what our viewers already know from the series Vinaři, and that's also an important thing. But I find Monday night very difficult, because it is competitively charged.
And then there's the new addition for Friday nights, the fun show Můj muž to dokáže. What should we expect from it?
We are very curious to see how this new show will fare. It hasn't been easy to come up with a strong entertainment format in recent years. We like the concept and the execution, and now it's a question of whether the audience will like it too. In the German market, which is probably the most similar to the Czech market in terms of audience preferences, the show has worked very well.
Do you have the feeling that it is already difficult to throw in new things in reality shows, which are represented in the evening broadcasts of TV Prima, for example by the tenth series of the Česko Slovensko má talent competition? Is there still room for these shows?
There is still room, because not all of the world's reality shows have been broadcast here yet. But we have to distinguish what type of reality show we have in mind. Are we talking about daytime shows like Prostřeno! or big evening formats that are broadcast only once a week. We're constantly evaluating different possible new shows, but it's not easy because a good format and good casting have to come together. But we will definitely try to try new reality shows because the format is and will be popular.
Over time, the programming schedule of the main channel is increasingly based on Prima's original shows, which was not the rule a few years ago.
There is no other way. The covid pandemic has accelerated the use of foreign video services among a relatively large part of Czech viewers. We cannot think that we will be successful with mostly foreign acquisitions. That time is gone.
"We cannot think that we will be successful with mostly foreign acquisitions. That time is gone."
But this has implications for the costs you put into production.
Of course it does. That's the ticket into the game today and into the future. Local content is the key. For providers like Netflix or HBO Max, the Czech market is too small to develop the kind of local programming here in the volume that local players will bring. Just considering how many hours of premium prime-time programming each of the three main TV stations in the Czech Republic has to produce today in order to make it in the market, this is indeed a significant volume from the perspective of a global operator, given the size of our market.
In the case of the upcoming pay video platform, do you plan to shoot only for VOD or do you foresee a symbiosis with linear TV?
I am convinced that the symbiosis is necessary for purely economic reasons. The way we see it is to offer on VOD what viewers didn't or couldn't watch on TV, and to prepare content that was created for VOD. But I don't think we will keep shows exclusively for VOD forever. In order to make it work economically, content from original productions for VOD will be used elsewhere later.
So you're already producing shows just for VOD?
We've produced them already and they are ready to go in the autumn. We will announce the details when the time is right.
And how many shows will you launch to attract a strong enough following?
It's very difficult to just give a number, it will be all about showing a diverse range. The second question is how often to renew the shows and offer new ones. We know from our experience in the German market that viewers on pay VOD services mostly watch content that was running on TV and that they didn't manage to watch, i.e. catch-up. It still accounts for the majority of viewership. Original VOD shows are important, but there are fewer of them. A look beyond our borders shows that broadcasters in the UK or Germany make about ten per cent of their output purely for VOD. And these are markets where the penetration of VOD services is much higher than here. So we see that ratio of VOD to linear production somewhere around 1:10 or 1:15.
"I don't think we're going to keep shows exclusively for VOD forever. In order to make it work economically, the content from original creation for VOD will be used elsewhere later on."
Are there enough creators here in the Czech Republic?
Based on what we have prepared and are preparing, I don't feel like there aren't. Of course, it depends on the quality. Producing shows for VOD forces us to experiment and go a bit further, because viewers expect something a bit different from VOD than from linear television.
Is there a proportionality also between the cost you need to produce original content for VOD? I mean, is it a tenth of what you need to produce shows for linear TV?
I can't say yet, we're in a different situation because we're investing in a start-up now. Moreover, VOD is an investment with more distance, because shows are produced even further in advance than for TV. Understandably, we are now seeing the cost of making shows increase.
Will the investment you put into producing VOD content be recouped from advertising and subscriptions?
Our plan is calculated in a way that they should, even with less than one million subscribers. But it's very dependent on how the content primarily produced for VOD or in time for VOD can be marketed on TV. We expect linear TV to remain strong over the next three to five years. But what happens in the market in the next three years will be really interesting.
Do you think you're late to market with a pay VOD service? Your competitor Voyo has more than a year's head start and other foreign players have entered.
I don't think so, because our competition is neither Netflix nor HBO Max, but Voyo. But if there's room for two TVs in the market, I don't see why there shouldn't be room for two VOD services. We know from surveys and from other countries that viewers choose based on the specific content they want to see. That means they jump between services based on their current offerings. If there was only one VOD service offering all quality local content, viewers would go there. But if there are more than one of those services, they'll make their choices based on what they want to see. So they don't have to pay for two or more services at once. An example in the US right now is Game of Thrones. Viewers pay a subscription, watch the show and leave.
Which of the subscription types under consideration - with and without advertising - will be stronger?
It also depends on the economic conditions and the situation in the country. Six months ago, I would have said that people would subscribe more to the more expensive versions without ads, but given the rising prices and the uncertain economic outlook, the cheaper version with ads will probably be more attractive.
One last question, which is not about the autumn broadcast and the preparation of shows for the VOD service, but about the debate on the financing of Czech Television. How would you, as representatives of the commercial sector, position yourself if, in theory, there could be an increase in advertising on Czech Television?
I think that an increase in advertising on Czech Television at a time of an emerging economic crisis is not a solution for Czech Television. There will be less advertising money and the volume that Czech Television needs to raise from the advertising market will not be raised anyway. However, I think it is right that Czech Television should demand the same licence fees from viewers of its online content as it demands from those watching television.
Marek Singer has been CEO of Prima Group since March 2008 - with a break from January 2013 to May 2015, when he was Executive Vice President of MTG for Central and Eastern Europe. He spent the first eight years of his career with Unilever in Europe and in the United States. In 2002, he spent four years as Marketing and then Sales Director at Masterfoods. In the following two years he worked as Sales and Marketing Director at Karlovarská minerální voda with responsibility for the Czech Republic and Slovakia.
Source: mediaguru.cz