What is a work
of authorship
It is a unique result of creative activity. Anyone who creates a work of authorship is an author. The work can be a film, a TV series, music, a book, a painting, a sculpture, a photograph, a computer programme, etc. It can take several years to create, and the creator often invests both time and money into it. This is why works of authorship are subject to special legal protection in the form of copyright. Their authors are entitled to appropriate remuneration for the use of their work and have the right to decide how their work is treated. If authors give permission to someone to use their work, they grant them a licence. If someone uses the work without the author's permission, copyright infringement occurs.
Copyright protects the work of authorship and gives the copyright holder the exclusive right to use the work. The holder may assign the copyright (i.e. the economic rights) to his/her work for  a remuneration or for free. Copyright is inheritable, but is only valid for 70 years after the death of the author. Copyright is regulated by the Copyright Act, i.e. Act No. 121/2000 Coll.
Infringement of
copyright
The internet has made it very easy to access some copyrighted works. For example, pirate servers have sprung up on the internet offering films and TV series for download (often for free but they may charge a download fee) without having the copyright to them. They are thus committing an unlawful act. As a result, audiovisual creators, TV companies, film studios and other entities lose out on the profits to which they are entitled
Copyright and
audiovisual content
The development and production of an original series is a long haul (similar to making a film), taking more than a year (often several years) from the initial concept and testing to production and launch on TV or a streaming service. Hundreds of people from various professions are involved in the process, and the cost of one series title in one season is tens of millions of crowns, a budget comparable to feature films in cinemas. For commercial television, it is essential to have the highest possible viewing figures, i.e. the number of viewers whose reach is monetised in the form of advertising. In addition, the series can be offered online, either free of charge with advertising or for a fee.
However, TV stations are losing these profits due to piracy. Last year alone, for example, pay TV in Europe lost €3.21 billion due to illegal TV piracy, according to a report by the Audiovisual Anti-Piracy Alliance (AAPA).
Why is internet
piracy illegal?
Films, series or TV shows are uploaded to illegal repositories (their names often include words such as share, hell, rapid, save, etc.) without the consent of right holders (creators, producers or licensees) who lose the income they are entitled to from the use of their work. The owners of the repositories, by contrast, profit from these works by charging download fees or placing advertisements. They are therefore committing unlawful acts.
However, users who download the films or series must also beware. While it is true that downloading for personal use is not punishable under certain circumstances (although court opinions on this topic diverge, e.g. the case law of the Court of Justice of the European Union), this conduct is definitely not right as it supports repository owners in criminal activities and causes harm to content owners.
Users are certainly breaking the law when they download films from torrents, which are based on the peer-to-peer principle (i.e. data flow directly from individual users to other users). Any further sharing and distribution of downloaded films, including a link to them, is also punishable.
Legal consumption
of content
such as films, series, e-books and audiobooks, music (including individual songs), PC and other electronic games, etc.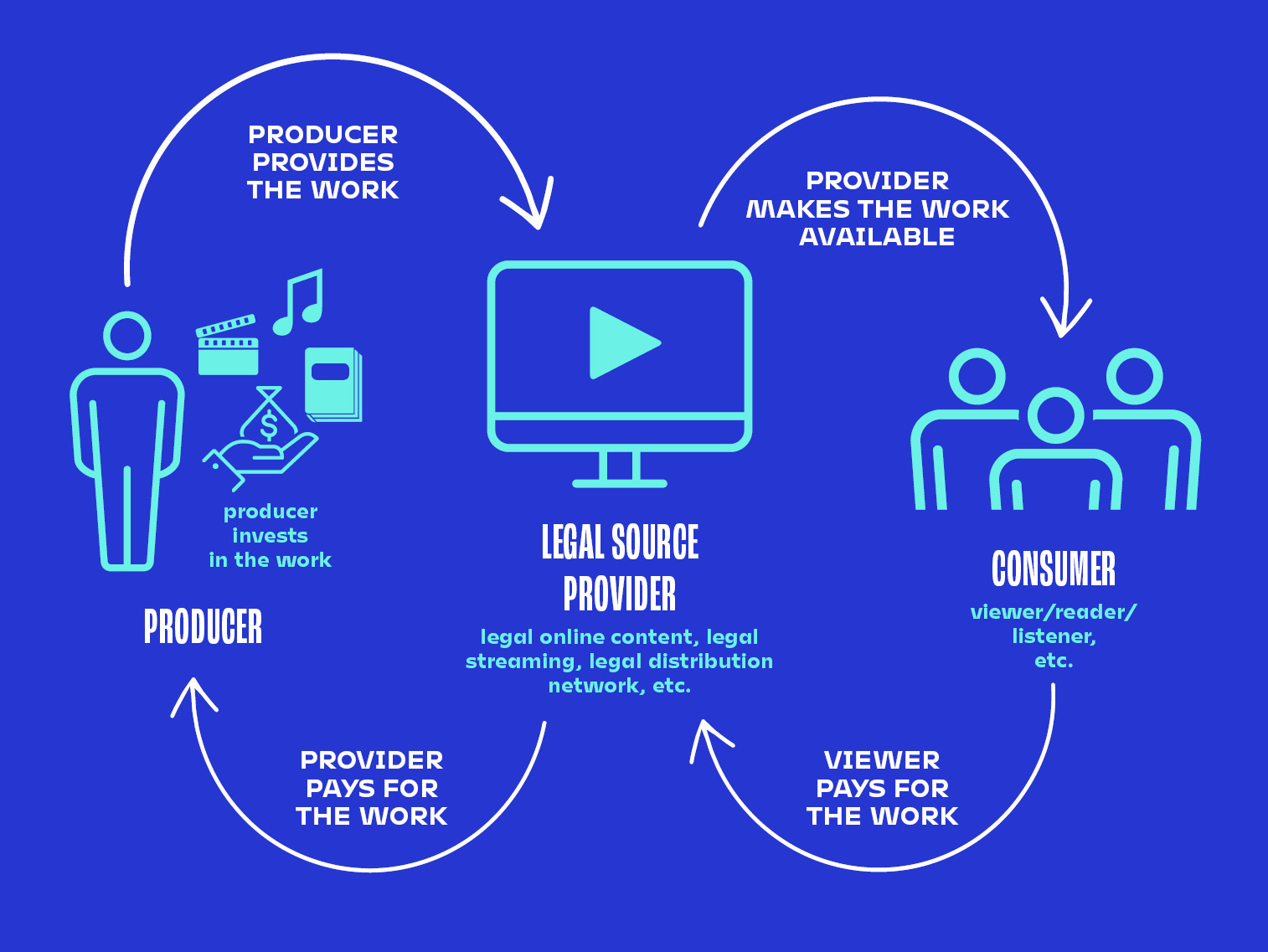 Do you have a question about copyright, its protection or infringement?
Send them to us via this form