CME: WE WILL MAINTAIN THE PACE OF INVESTMENT IN VOYO IN THE COMING YEARS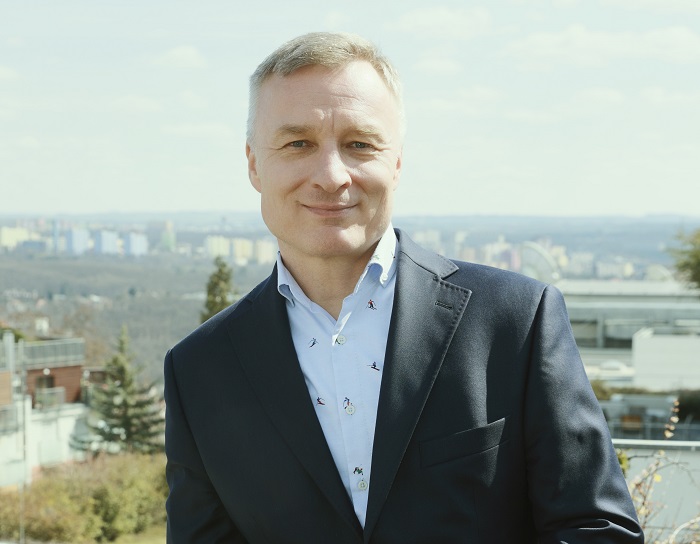 Dušan Švalek; Zdroj: CME
15. 5. 2023
Local video platform Voyo will continue its set pace of investment in content production in the coming years. "The mathematics of the growth trajectory does not allow us to slow down," says CME deputy CEO Dusan Švalek.
Central European Media Enterprises (CME), the parent company of TV Nova, is confident in the set strategy of its pay video platform Voyo and will continue with it. It sees its entry into the market as successful and expects Voyo to grow with the entire SVOD market in the Czech Republic and Slovakia. It predicts this will double by 2027. Voyo's subscriber base now exceeds 500,000 in the Czech Republic and Slovakia and it wants to reach one million by 2025.
In a discussion with journalists, you presented estimates for the development of pay video on demand (SVOD) in the Czech Republic and Slovakia on behalf of the CME Group. They showed that you are optimistic and expect continued rapid growth in SVOD. Is it really realistic for Voyo to reach one million subscribers in both countries by 2025? On the contrary, are you not worried that growth will slow down after the initial rapid growth?
We firmly believe that we will reach that goal, although it will not be easy. We are basing this on several assumptions. Firstly, we see from developments in foreign markets that it is possible to reach that number of subscribers. We have seen it in America, Scandinavia, Britain, so our ambition is based on an estimate of where the Czech market can go. Secondly, we believe we are well on our way. We were the first of the local players to enter the market and have made significant investments. They pay off after some time, plus new things are coming in and everything builds on the other. Sequels are coming to series that viewers already know and talk about with friends and acquaintances, and that helps to further expand the user base. Third, we trust our team. We've brought in a number of great people with a wide range of expertise. These are people who understand content production, video and digital media and bring a completely different perspective. It's the digital part that we're expanding the most.
Does the data you have show you the differences between the TV Nova or TV Markiza audience and the Voyo audience?
Yes, we see that Voyo viewers are a little bit younger than the viewers of linear TV channels. This reflects that the technological adaptation of the new way of consuming video is easier for the Internet generation. I'm not saying it's a rule, but it started there, and thus the ratio is a bit higher.
You also talked about Voyo's heavy investment in content as a necessity for such a service to compete with multinational players. Will you continue to invest in Voyo as much as you have been, or do you foresee more use of the archive in the future?
As far as the library of titles is concerned, it will certainly have some value, there are already 2,000 films in it, for example. And we keep buying because we believe there is room to build the library even stronger and that our viewers will return to it repeatedly. And add to that our own titles, both for linear broadcast and directly for Voyo, like Iveta or Král Šumavy (King of the Bohemian Forest), which are ageless and have high production value. Our ambition is to create quality stuff - premium video content.
We definitely want to keep up the pace of investment for the period we are projecting now. Because the math of the growth trajectory doesn't allow us to have a lower pace. It's important that we see a return on investment at the end of the journey. Mainly so that we can reinvest the profits back into producing new titles and new content.
How do you calculate the return? Through monetization of subscribers or also through advertising in linear broadcasting, where some Voyo titles also appear or appear later?
That depends on exactly how we allocate content on a channel-by-channel basis. The bulk of the titles will only be on Voyo and it's relatively straightforward there. Some titles go on Voyo first and with some delay to linear TV - most often a week in the case of series previews and our entertainment shows, and some titles only appear with more time. But that decision is still to be made as to what mix we will choose and whether we will want to put more shows from Voyo into linear TV. We put the first truly Voyo Original Případ Roubal (The Roubal Case) on Voyo towards the end of 2021 and you still couldn't see it on TV.
The return on investment is projected for 2025?
As Didier Stoessel (CEO of CME, ed.) said, we are already approaching the payback in this period.
According to your estimates, the number of households using SVOD in the country will double by 2027. How will this growth be reflected in the number of Voyo subscribers? How many might it have in 2027?
I wouldn't like to speculate on that. Our ambition is to deliver the best local SVOD service. We are building on local content and we want to lead the market and be the number one choice for users to watch local content. All numbers, market shares and quantitative targets are based on this core strategy.
From the beginning, you have profiled Voyo as an ad-free platform. Isn't that closing the door to more subscribers and to some of the revenue you would have earned by selling advertising?
This is a question of the focus we have chosen. We might have gained some customers by introducing a hybrid model, but we would also have lost many of them. Because if you're going to introduce something like that, you need to focus on it, you need to support it and promote it. Every company with big ambitions has to choose its battlefield. Our battleground for this growth phase is a paid service with no advertising, and we're putting all our resources into it, setting the mentality, customizing the product. We believe it's the best we can do for this stage of market development. And we have the data to back us up: the top five benefits of Voyo include being ad-free.
Source: mediaguru.cz