VOYO DOES NOT TARGET YOUNG PEOPLE. WE ARE ALL ABOUT FAMILIES, SAYS DANIEL GRUNT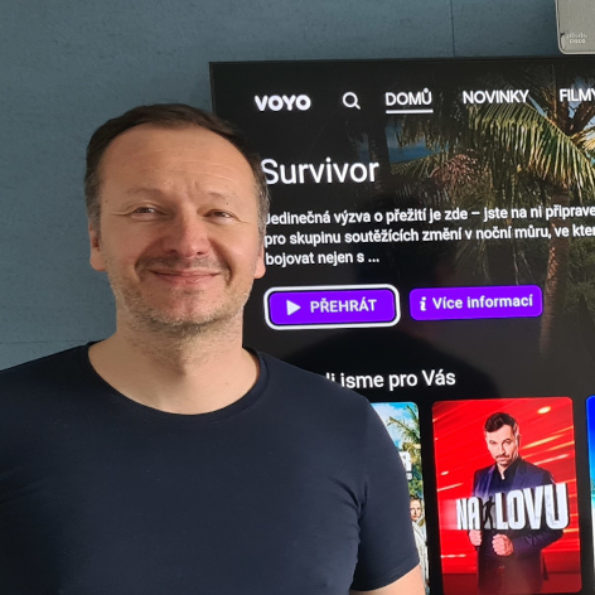 20. 4. 2022
Nova TV's Voyo video service experienced an exceptionally successful year. At the beginning of 2021, it announced an ambitious plan to attract a million customers within five years. At that time, Nova only had about 60 thousand customers in the Czech Republic and Slovakia. It surpassed its annual goal in the autumn and now the number of users exceeds 350 thousand. By the way, it is more than the global player HBO Max has in the Czech Republic.
How come Voyo attracted so much attention and how does it plan to maintain the high share in the increasingly competitive market? We have asked Daniel Grunt, Chief Digital Officer of CME, which owns Nova and Voyo.
This year marks a turning point for streaming services in the Czech Market. HBO GO changed to HBO Max, in June Disney+ is coming, the merger of Discovery+ and HBO Max is drawing near, and Voyo is expanding its original production. Which of the changes do you find the most interesting for your market?
Probably the most interesting thing is the concentration of developments this year. There are relatively many launches. They will include services that you have not mentioned and that will probably be less visible because we will not be too important for Europe within their strategy. So definitely, the most interesting thing is that the market, which started growing relatively remarkably two years ago, is getting extremely dense. But what is positive is that we are at the beginning of the growth wave and the market may up to double by 2025 or 2026. So there is much to select from.
I take the onset of competitive services positively as they promote the existence of streaming services in general. It will help significantly to educate the market and it may also accelerate penetration of households with the services. I expect the penetration to range between 24 and 26 percent in Czech households this year. That would be five percentage points more than last year. And I definitely think that this year will make households that have some experience with a streaming service subscribe to other services and as a result, they will pay for multiple services.
How many services does an average Czech household use?
We have originally expected that this year it will be 1.3 services per household on average but I think that it may easily be more. When I compare it with markets that are about four years ahead of us, such as the UK or Scandinavian countries, they have 2.5-3 services per household. And they are expected to grow to four. In the US, which has a specific market, it is more than four services per household. I estimate the number to be 2.5-3 services per household in 2025, both in the Czech Republic and Slovakia. Much of this will relate to the growth in household penetration of receivers capable of using these services. But it will be quite an interesting area for growth both for us and for global players.
But the number of streaming services that households will be able to afford will depend on the price.
That is true but the price is quite reasonable in my opinion. All prices range between 150 and 200 crowns. It is the basic input price that I find acceptable for Czech and Slovak households. Our target is that penetration of households with VOD services may be over 40% in 2025.
The price is one thing but the time users can devote to streaming services is another. If you have three services plus linear broadcasting, you can hardly watch all of them. In addition, with Voyo you  cannibalise the time viewers can watch Nova and its thematic channels.
Time will be the most precious commodity we will compete for. It is interesting that if I look at video consumption for the last five years, the accumulated time devoted to this activity has been growing strongly all the time. It is not that people replace one way of video consumption with another. At least in our region we can see that linear TV has still be growing a bit but there is a simultaneous rather aggressive onset of another way of consumption, be it AVOD (free online archives), SVOD (pay streaming services) or short videos. It is more about people cutting off their free active time in favour of this more passive entertainment.
Was it caused by Covid-19 when there was nothing much to do? Can it change now?
No doubt Covid has initiated it but in general, the video consumption growth started far before the pandemic. Covid has accelerated the shift as people were not able to meet so much, they were staying at home more. When you look at the figures for linear TV in the post-Covid era, they are not falling, they are still very much up, and that does not apply just to older viewers but also to younger people who spend around an hour and a half a day in front of the TV. I think that this is enough, it is still the strongest source of video entertainment for them. Of course, we will compete for people's attention and time with casual gaming and other entertainment activities. The most precious commodity will truly be viewers' free time that we will compete for.
What will it mean to linear TV?
We enhanced Voyo to expand our portfolio of potential entertainment for viewers. In Western Europe we can see that the number of people not watching linear TV slightly declines to the benefit of non-linear services and we need to occupy this market sector in order to compensate the falling interest in linear TV on the streaming side when it occurs. By doing so, we are opening a new way of our work monetisation. We collect money directly from customers and the sum should be even more interesting in future. There will always be a combination of linear and non-linear broadcasting but what matters is the proportion. For us it is extremely important that viewers spend maximum time within our portfolio of services. Voyo becomes the first gateway in the video distribution chain we have. This means that the most recent and premium things go to Voyo first and we are not planning to include them in linear broadcasting yet.
Does this mean that the series Ordinace v růžnové zahradě will not come back to linear TV screens?
We are not planning that, Ordinace has been produced exclusively for Voyo and the plan is long-term.
Not even in two years?
We do not plan on it.
And what about Voyo Originál programmes, such as the miniseries Roubal, Guru…
That is possible. Maybe in two years. But Ordinace has been produced just for Voyo so far.
Nova's core business is linear broadcasting now. Do you assume that this will change at some point in the future and non-linear services will become the main source of income while linear broadcasting will be a supplement?
I sincerely do not believe that this will happen in the foreseeable future, by which I mean the next 10 or 15 years. It has to do with our nature. A man is a lazy creature and the need for more active video consumption will saturate to some degree over time. I can see it on my own example. After many months of using SVOD services whichever of them it is, I spend some time searching what to watch and I get tired of that. So I switch on linear TV and watch it. And it will be like that, there will always be a certain combination. Since linear TV is strong in our region I think that it will not change in the near future. But it will definitely be an interesting supplement.
Let us move to numbers. You have long not commented on the number of subscribers and suddenly 350 thousand appeared on LinkedIn in February. What is the number of subscribers now? Do you have half a million of them?
All I can tell is that we continue growing nicely and have more than 350 thousand users. We are not going to announce the numbers of our subscribers too frequently. Our competitors are not doing it either.
How come you published the number in February? Was it your common decision or did it happen by chance?
We wanted to show off. When we started making changes in Voyo at the beginning of last year, we had about 60 thousand subscribers, so the leap was huge. It was our assurance and celebration of the work of the people involved. Basically nobody outside Nova believed that we could manage that. This related to the fact that the goal we had announced, a million subscribers, was enormous. Everyone was thinking that those were further promises... And when it became clear that our people, who spend all their time working on Voyo, had such great results, we wanted to show them after the first year. But I do not think that the frequency of publishing figures will be higher than once a year. Even that is quite frequent in my opinion because our competitors do not disclose their local figures at all. For us it was important to show that we managed to achieve some results and were going in the right direction.
But you will disclose the numbers in Nova's annual report, won't you?
I do not think it is necessary.
How come that 300 thousand people have subscribed to Voyo within a year? Is it due to the series Ordinace v růžové zahradě that you moved from TV to the online service or does it have another reason?
It is a huge combination of thousands of small factors. To mention the most important ones, the key factor for us was the maximum focus on the fact that we take ourselves seriously and that it is a priority across the firm. We set up a path to follow and we did not hysterically move to one side or the other when things were not going well or we were not sure. And another reason is that we have increased our marketing team as much as possible. It is relatively large in all elements, ranging from acquisition marketing to the retention, PR and creative components. We have staffed the team excellently and learnt over time what works and what does not. We have introduced a data team and started investing time, energy and sources in business intelligence, data and CRM. We have moved from a situation when we were pushing the marketing investments and content to some black box, from which we had some output and we had to think hard what it was to a very detailed insight into how people behave and what they watch. We can segment them and thanks to this we can offer them better content and maintain their attention. This naturally relates to another pillar, which is content.
The most famous is probably Ordinace v růžové zahradě that moved to Voyo. This must have been a turning point in the decision-making of a number of customers whether to pay for your service.
Yes, the move of Ordinace to Voyo was very helpful last year. It is the most famous Czech series that was on screens for 15 or 16 years. During the last season on TV, each episode was watched by nearly a million viewers. As for Voyo audience, it helped us much. I think that it helped us in terms of communication and image. It was also a signal to the market that we take it seriously when we take a successful series and move it from TV to Voyo. At the same time, we increasingly invest in linear TV creation, the quality of which has grown substantially. Investments are tens of percent higher than years ago and this helps Voyo. If something works well on TV and we can provide it to people without ads and earlier than on TV, it works extremely well.
Does it work the other way round when you produce something just for Voyo? How is the Voyo Originál series doing?
At the end of last year, we launched the first Voyo Originál miniseries, Případ Roubal, which helped us enormously in terms of image. We have created something that has high quality and it was nominated for the Czech Lion (Český lev) award. It is perfect, we have attracted new faces and authors that have not worked for Nova so far. Which is by the way another great benefit of Voyo for the Nova Group because through Voyo, we are attracting creators to Nova who have not worked with us before. We meet very creative people, be it faces, directors, scriptwriters, producers or production groups.
Apart from Roubal, Love Island also worked well. When I look at the most watched titles in April, they include Voyo Originál. We also have a very good acquisition, for example Servant of the People starring Volodymyr Zelenskyy works very well. We have focused on European acquisitions, Scandinavian and British crime dramas and national versions of Wife Swap from other countries, e.g. Slovakia or Australia. I believe that the content mix is very good and as we know our viewers and communicate with them we substantially increase their activities in our service. On average, they watch Voyo 12 hours a week. And 90% of subscribers use Voyo at least once a week. Our users are thus very active, which could mean in the long term that they will stay with us for a long time.
What do they watch most?
The most watched shows naturally include Ordinace. Roubal and Guru are still working well. What is nice about this platform is that it is not just like TV where you launch something and people have to watch it in that moment and do not come back to it. As we released Roubal at the end of the last year, Guru at the beginning of this year and Házená now, we are still on top.
And what is the difference between the number of viewers of Ordinace and the miniseries mentioned? Is there a big gap?
It is nearly one to one. Really a great portion of people watch these things. Leaving aside Ordinace and other Voyo Originál production, the most successful TV shows work the best - Wife Swap, Ulice or Servant of the People. From time to time, reality shows make it into the TOP 10. Voyo Originál shows seem to be a big motivation to subscribe to Voyo.
Who is the typical Voyo viewer? Do you have any surveys?
To be honest, we want to keep the registration form as simple as possible, so we do not ask too many precise questions and we do not have detailed socio-demographic data. But we collect the data from several sources. Of course, we have quality research studies, brand tracking that we commission on a regular basis. What content people watch is what defines their socio-demographic and economic status. And then we have a clearly defined target group that we seek to reach and we tailor the way we communicate and the content we buy and produce accordingly.
The core of our target group are young families, in my point of view thirty to forty year olds, those are viewers we target. We are not focusing on very young people and will not focus on them in the long term. We will leave them to Netflix, it is no point competing with Netflix in this segment. One of the reasons is that this target group is rather instable. It fluctuates depending on where the relevant content appears. We tend to go for people who are more stable, more loyal and there are more of them. If we were to expand our target group, we would go for older than thirty and forty year olds. There is a huge potential, the greatest in fact.
Children's content also works very well, which relates to our focus on young families. We have invested relatively large amounts in the acquisition of children's content and we take pride in the fact that it is completely dubbed into Czech. As such, there is a clear pre-selection. Parents do not have to worry that something inappropriate will pop up when their child is watching Voyo. Which cannot be ruled out on YouTube or other platforms. Another thing is that children understand the shows because they are in Czech.
Do you have any original shows for children?
If I think about our production plan until the end of 2024, I do not recall anything focused especially on children. We focus more on families.
When talking about children, how much will the arrival of Disney+ shake up the market?
We will see, it is hard to predict. Disney+ is definitely a strong service. Globally, it is number two after Netflix.
Do you offer anything from The Walt Disney Company?
I do not think so. It might not be possible as big TV groups, especially the US ones, started withdrawing their content from all platforms over the last two years to keep it for themselves. Disney+ is definitely an extremely strong player, it is a strong brand, it has a very strong content and it focuses on a similar target group as we do. So yes, it is a significant competitor.
Bigger than Netflix or HBO?
In my personal opinion as a man who has been analysing it for some time, I think that Disney+ will be substantially stronger than HBO. It can be seen globally. Disney+ has skyrocketed in the last two years and is already number two behind Netflix. I think that in the long term, it can easily be number one as investments of The Walt Disney Company in content are the largest in the world. I think that it has spent over 33 billion dollars on content acquisition and production just this year.
Which means that it will shake up the Czech market.
I think that its arrival will increase visibility of SVOD services in general. I have long thought, and I said that when joining CME, that the market will stabilise in the following years with the top three including Netflix, Disney+ and Voyo as a local complement to the two biggest players. If you look across the globe, HBO has been here for a very long time and the newly emerging brands have beaten it quite easily. Disney+ will be the most visible one out of the new players coming to the market this year. I strongly believe that our focus and strategy betting on local content, faces and topics and annual investments in Voyo Origiál should help it. If you look at the attendance of Czech cinemas, original Czech films always report much higher attendance and rating no matter how good a Marvel movie, Star Wars movie, or anything else is released. People here will always want a higher degree of quality local content with local faces. I believe that over time, the big platforms will make one or two local series a year but we will make ten, and in the following years up to twenty or thirty a year. I believe that the two major global services in the Czech Republic will be Netflix and Disney+ and we as the local leader will form the top three with them.
Is it true that for Disney+, HBO Max or Netflix the Czech market is not big enough and if we compare it with Poland, for example, there are many more original Polish series on Netflix than local production from the Czech Republic?
Poland is many times bigger. And what is specific to us is that for Czech viewers we have to dub the shows. People here are not accustomed to subtitles, we can see that on Voyo as well. The Czech market requires dubbing most of all markets where Voyo operates. Slovakia a bit less and other countries of our operation - Romania, Bulgaria and Slovenia - make do with subtitles.
Do you offer films in Slovak in Slovakia or just in Czech?
It is a combination. Usually what we buy for the Czechs we buy for Slovakia if it makes sense and there are free rights. This relates to acquisitions - when Czech dubbing is made in Prague, we use it. As for Voyo Originál, we have had no exclusively Slovak content but we are planning it for the next year.
Will you offer it on Czech Voyo then?
Yes, we will.
Is there any difference between the Slovak and Czech Voyo version?
For users, there is no difference except that we are more violet here and they are more turquoise there but otherwise, it is the same in terms of products. The way they consume content is also similar. But Slovakia, which is more focused on emotions, requires more romantic, emotional series. They work better there than in the Czech Republic. Here, crime dramas work extremely well. If we go farther to the Balkans, the differences in viewer preferences are bigger.
We have talked about users, about the number of subscribers, about dubbing - but what about the way people watch Voyo? Do you know what devices they use to watch it and what is the most frequent way?
People increasingly watch Voyo on TV screens, which is desirable for me because when they watch the largest screen at home where it is most comfortable and convenient it means that it is important to them. Nearly 60 percent of Voyo users are watching us through the TV screen.
Source: televizniweb.cz