Investment advantages grow faster in recession, says the expert Peter Field based on experience gained in the previous crisis in 2008/2009.
In recession, brands should not cancel their investments in communication and should predominantly focus on brand building rather than short-time activation. This is one of the recommendations given to clients by Peter Field who, together with Les Binet, has long been engaged in communication effectiveness research. The recommendation was presented in a workshop organised by the European association of TV and radio sales houses (EGTA) and mediated by the Association of Commercial Television (AKTV) in the Czech Republic.
Peter Field's workshop was based on the experience gained in the previous crisis in 2008/2009. Using approximately fifty case studies, he evidenced that brands should not discontinue their marketing investments in the crisis. If they do so, it will be more difficult and more expensive for them to come back when the crisis is over. "Cancelling investments completely is a risk, it may take years for brands to recover," he said.
In order to emerge from recession in better shape than before entering it, brands need to invest in communication immediately in Field's opinion. On the other hand, he warned about directing all investments at short-term activation. "We saw that in the last crisis in 2008/2009 and we have seen it now. But it is a big mistake. Communication effectiveness decreases by more than half and brands go weaker. Not right now but in the next quarters," he explained. That is why Field finds it appropriate to always accompany activation with brand building investments. These investments should have a long-time effect, they are very valuable and should help in recovery according to Field. "Recovery depends on our immediate investments. Cancelling budgets is misapprehension of brand advertising," he added.
At the same time, brands should maintain their share of voice (SOV) at a higher level than their share of market (SOM) in the crisis. During recession, SOV is more inclined to decrease below SOM, which doubles the risk in the crisis according to Field. Brands should benefit from SOV maintenance costs being lower in the crisis as the ad-space prices fall. He added that the current crisis caused by the coronavirus pandemic showed another specific feature – the growing time of most media consumption. In his opinion, this is an exceptional opportunity to increase the share of voice.
Using an example of three brand groups that applied three different investment strategies in the 2008/2009 crisis (very low investments: SOV below SOM; medium level of investments: SOV equal to SOM or slightly higher; and investing brands seeking to take an advantage of the opportunity), he showed that brands investing during recession reported five times higher business effects that those that failed to invest. They also experienced a 4.5 times higher annual growth in their market share and greater profitability. These active brands reported a 14% higher profitability in recession than they would have achieved in 'normal' times. "Investment benefits grow faster in recession," concluded Peter Field.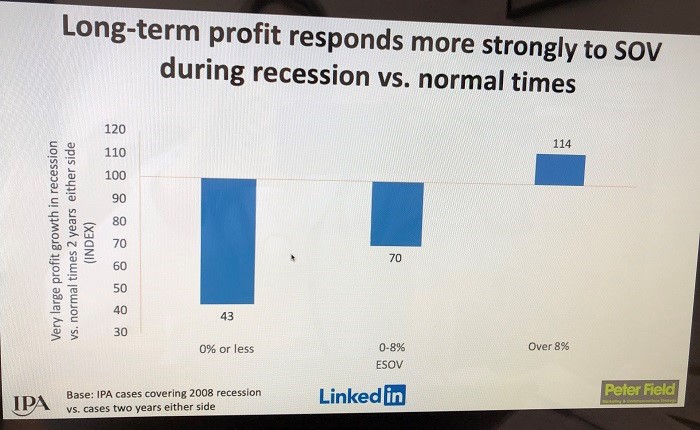 Source: Peter Field's presentation, comparison of profitability of three groups of brands by their level of investments during recession vs. normal times.
Source: https://www.mediaguru.cz