Narrowing the Gap Between Cinemas and Sofas
The desire to watch new theatrical movies at home is not new; it's something consumers have wanted for a long time. Until now, studio experiments with "day-and-date" simultaneous releases in cinemas and at home were stymied by theater owners.  But the intertwined impact of the pandemic and direct-to-consumer streaming services forced the hand of the studios. And now day-and-date home release has yet another tailwind in its favor: the evolving capabilities of the TV sets people have at home.
The impact of a (hopefully) once-in-a-century pandemic arrived at the same time as studios felt the pressures of quickly building subscribers to their new streaming services; both factors have accelerated the long-term decline in the theatrical film business. Having suffered through long periods of closures, cinemas now face competition from studios releasing their films day-and-date on their SVOD service (HBO Max), selling them day-and-date as a premium add to their SVOD (Disney+), and compressing the traditional release windows to a minimum, again to serve their streaming subsidiaries/partners (everybody).
If you consider the pre-pandemic complex structure of movie windowing as a "Multiverse of Madness" (to reference the upcoming Dr. Strange sequel), then that multiverse is in the midst of being pruned to a single "sacred timeline" (the theme of Marvel's direct-to-TV "Loki" series) to serve the burgeoning direct-to-TV business.
Ongoing research, as well as real life results, suggest that consumers are quickly getting used to this new method of watching movies. And that technology – in the form of evolving TV sets – will help ensure the genie stays out of the bottle.
Black Widow's Sting
Disney's releases of Marvel's Black Widow in June, and of its Dwayne Johnson-powered Jungle Cruise in July are the latest evidence this new model can work for studios.
Disney says that the opening weekend of Black Widow brought in $60 million of incremental premium VOD purchases on Disney+; Jungle Cruise brought in $30 million. This revenue goes directly to Disney, instead of being shared roughly 50/50 with theaters.
Disney also gets to use their best content to cultivate a direct relationship with consumers – engaging their subscribers more deeply, and giving non-subs a new reason to sign up.
Finally, Disney gets access to a motherlode of data on its theatrical movies – where a movie is rewound, which consumers are most willing to pay, what other titles those people like to watch — all analytics that can be invaluable in improving satisfaction, retention, marketing, and profits.
The Silver Screen Comes Home
This year's "Evolution of the TV Set" report from Hub Entertainment Research says a majority (57%) of homes have a set with a screen that is 50 inches or larger (it was only 28% in 2016). And 7% have TV that is 70 inches or bigger, up from just 1 percent five years ago!

Most movies are shown at the equivalent of 4K in the theater. Until recently this was beyond capabilities at home. But things change fast – in 2021, 44% of homes have a 4K capable TV – almost 10x as many as in 2016 (5%).

And, this year Hub reports that 40% of TV homes say they have an external sound system – a TV connected to a sound bar, home theater speakers, or a stereo system.
And while the pandemic shut down lots of businesses, one thing it didn't shut down was consumer investment in their home entertainment. In Hub's July 2021 study "Predicting the Pandemic", about 40% of those who watch on a smart TV say they bought one during the pandemic. It's clear that TV tech enabling a cinema-like experience is more prevalent than ever.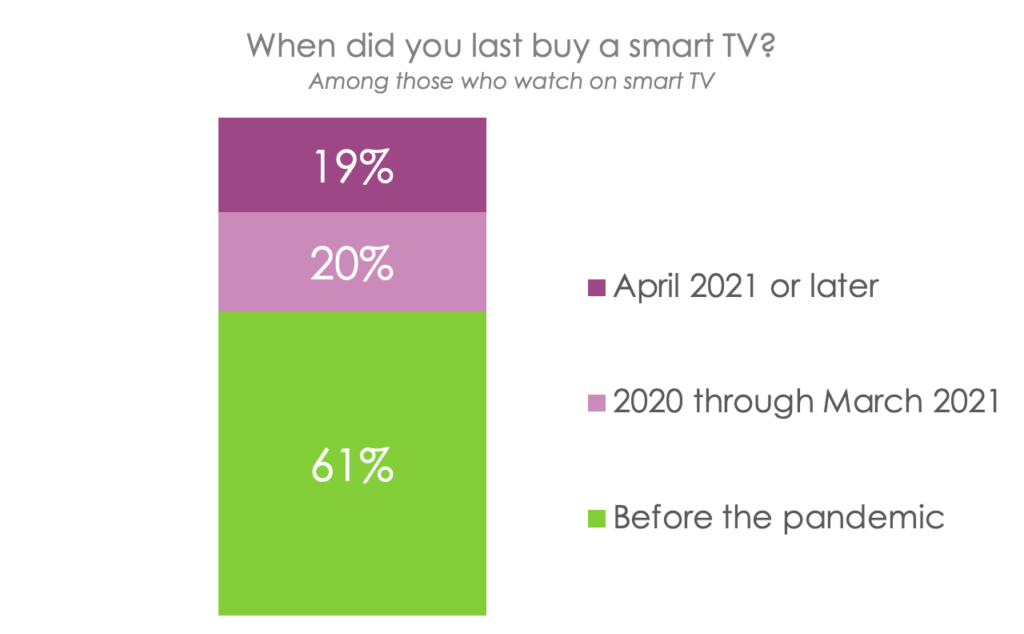 Smart TVs Make it Easy
Smart TVs – or devices that stream to TV sets – have become far more user-friendly in the past half-decade. And the user interfaces of the new studio-backed streaming services tend to be easy to use as well. This makes it easy to find and watch home releases from your favorite chair, using your familiar remote, no matter what platform they're on.
Watching at Home Is Less Expensive
Cost is also a not-inconsiderable factor for many people. Let's consider a two-person empty-nester date: Black Widow costs $12.50 a ticket ($25 total), plus the usual cinema snacks ($10), for a total of about $35 – and don't forget the time cost of a 25 minute drive each way. Staying at home, the investment would have been $29.99 for the Disney+ premium buy, about 25 cents for a bag of microwave popcorn, and a two minute walk downstairs to an 80" 4K set with surround sound. In terms of money and time, the choice between going out or staying in is about even.
Now, consider a family with two children: the match-up would change completely in favor of home viewing. It would easily be less expensive and less hassle than carting a family of four to a cinema.
Now, some people say that the experience in an auditorium full of people will never be equaled at home regardless of the cost difference; it's true that for some movies, it's hard to beat watching a movie with 500 other souls. But the in-cinema experience also varies widely and can contribute to a desire to stay at home. Whether it's people talking to each other, texting or talking on their phones, or food and drinks being served during a movie, the experience has suffered over the past decade.
The Cinema As a Special Event
Before the pandemic, troubles with movie attendance had already led many chains to start to offer premium cinema experiences like better seats or in-seat food/beverage service; or extras like a bar/restaurant in the theater complex to enjoy before or after your movie. These add value to the cost of attending a movie in-person, making it more of a special occasion – but they also tended to add to the cost as well. Will it be a good strategy to turn the movies into a special event? It may well work for blockbusters but "art house" movies may well turn into "in-house" movies enjoyed at home – the home experience will be "good enough" for character studies and documentaries.
Pushed by improving TV technology that elevates the overall home movie experience, the big question is how will cinema chains work together to create even better in-theater experiences that will pull people off their couches and into their cinemas? And what are the incentives for studios to help – or hinder – that effort given they've all now put down a big stake on their future with D2C?
Note: 2021 data taken from cited reports from Hub Entertainment Research. 2016 data are from GfK's "Home Technology Monitor Ownership and Trend Report".
Source: tvrev.com