Nova sought to structure its autumn programme to be successful every broadcasting day, says Silvia Majeská, Programming Director, about the new schedule.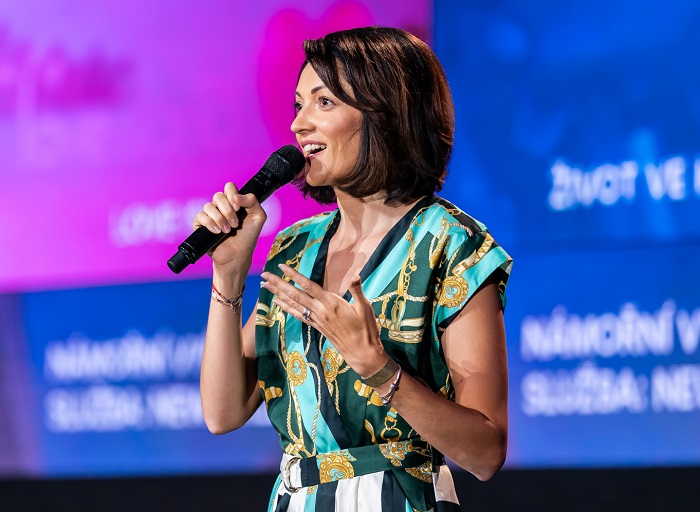 In Nova's autumn programme schedule, there are several shows that Czech viewers will watch for the first time. They include a quiz show The Chase, a new series Pan profesor starring Vojtěch Dyk and a reality show Love Island following the lives of young couples in a villa. There is also a new show Souboj na talíři featuring the faces of the cooking show MasterChef, which will continue with new episodes in the autumn. Similarly, Pop Idol, Married at First Sight, Ulice and Specialisté will offer their new seasons. However, after 16 years, the TV series Ordinace v růžové zahradě 2 is no longer in the schedule of linear TV. Last autumn, it was replaced by MasterChef on Tuesday evenings, this autumn, Ordinace on Thursday evenings will be replaced by Pan profesor.
After the presentation at a press conference, we discussed TV Nova's autumn broadcast schedule with the Programming Director of TV Nova, Silvia Majeská.
At first sight, I would say that TV Nova's autumn schedule includes more reality shows in prime time than we were used to see on Nova. Namely if we compare it with 2019 and previous seasons.
It is true to some extent but it is not a big change compared to last year when we aired reality shows such as MasterChef, Wife Swap and Your Face Sounds Familiar on weekdays. We added an extra slot and expanded the number of premieres this autumn.
How do you perceive this year's autumn schedule?
I would describe it as a step forward. We are seeking to follow successful programmes and past pillars while bringing new shows. It is hopefully a good mix for viewers. They can find what they know as well as new shows in the programme.
This season is the first one after 16 years when Ordinace v růžové zahradě is missing in the schedule, which was unimaginable before. How difficult was it to avoid Ordinace in your programming?
We had intensive debates on this issue as Ordinace was a long-term pillar of Nova. But as I said, we are moving forward and searching for new ways. Ordinace continues on Voyo, viewers are interested in watching it and its fans will not miss new episodes. At the same time it is a big challenge for us because this change gives us space to offer new formats to viewers. The new series Pan profesor is a relationship series with comedy elements addressing various serious topics of today's young generation. In general, it is a 'light' entertaining series that may please viewers these days.
Is it possible for Ordinace to come back to linear TV after some time? For example in an edited version or another modified form?
In TV I have learnt that you should never say never. It is so dynamic medium that I cannot say and be hundred percent sure now that something will not happen in the future. In February 2020, we had some expectations, but within weeks they changed, we discontinued running shows and started broadcasting reruns and news specials on the pandemic, which I would not have expected to happen before.
Two seasons of Pan profesor, which will be broadcast on Thursdays instead of Ordinace, were aired by the sister TV company, TV Markíza, and ranked among the most successful programmes. Will the Czech version be similar to the Slovak one or will the two versions differ?
It will be similar as it is based on the same original (Editor's Note: the German series Der Lehrer, aired in 2009 for the first time). But there are elements within the story included specifically for the Czech audience. It is a type of series that is formed significantly by the main character's personality and charisma. Vojta Dyk, who plays the role, is very human and charismatic and defines the overall impression that the series makes.
In Slovakia, there will be the third season of Pan profesor aired in the autumn. Are you planning several seasons of the series for the Czech market as well?
We would be very happy to do so. But viewers will have the final say, it will depend on the feedback we will get from them. We can see some potential in the series, it has been run successfully for several years abroad. Although in Slovakia the figures of the first season were good, the results of the second season were even better (Editor's Note: the final episode of the second season has a share of 33.8% in TG 12-54). Viewers got used to the characters and were immersed intensively in their fate.
Is Pan profesor one of the shows with the highest expectations in terms of viewership in the autumn? Is this the main blockbuster?
It is the blockbuster because it is new. It is a bit different type of series than we have aired so far. On the other hand, we do not expect that this series would drive the entire programming. We wanted to make a schedule to be successful every broadcasting day.
On Mondays and Wednesdays, you will run the cooking show MasterChef in prime time. Will you achieve the required viewership by the double offer?
MasterChef has proved successful, specifically in our target group (Editor's Note: in the autumn season of 2020, its audience share was 29.90% in TG 15-54). It is prepared by an experienced team that is able to capture emotions, excitement and entertainment. In some countries, MasterChef is broadcast daily. It is not unusual to run it several times a week and we are naturally following the trend.
Shows like Pop Idol, MasterChef, Love Island or Married at First Sight can be understood as shows for younger viewers. Is it your aim to address younger audiences with the autumn schedule?
It is not exactly that we need to attract younger viewers because compared to our competitors, our audience is younger. But naturally, it is important for us to reach younger targets as we concentrate on viewers aged 15-54. We thus select formats that match this focus. If we selected older formats, we would not reach our target group. On the other hand, MasterChef and Pop Idol are shows broadcast for the mainstream viewers. It is true that Love Island is a show attracting much younger audiences and that is why it is intended primarily for Voyo.
Source: mediaguru.cz