The SVOD market is expected to attract more than 100 million subscribers in Europe by 2026. Number one is Netflix but the growth will be driven by Disney+ or HBO Max.
The number of SVOD subscribers in Western Europe is expected to grow to 234 million by 2026 increasing by 70% compared to the end of this year. Netflix is assumed to be the major player of the SVOD market but Disney+ will grow quickly. This is the outcome of a new study by Digital TV Research.
Netflix is expected to grow by more than 20 million in the following five years and achieve 74 million subscribers. Disney+ is forecasted to grow to 55 million in the same period. It will get ahead of Amazon Prime Video, which will achieve 53 million subscribers according to the forecast.
Other, predominantly regional, services such as Viaplay (the NENT group, Nordic countries) and BritBox, will add 20 million subscribers in aggregate and will report 46 million subscribers together within five years.
The lowest growth in Western Europe is forecasted for HBO Max, which is expected to start in Europe in the second half of this year. It is namely because the service will not enter all European markets according to the available information. It will only be accessible in the key countries such as Great Britain, Germany or Italy where the HBO owner, Warner Media, has agreements with Sky. This operator holds exclusive rights for HBO content. If HBO Max appears in twenty countries in Western Europe it would get 10 million subscribers within five years according to the forecast. If not, it will have 3.3 million subscribers by 2026.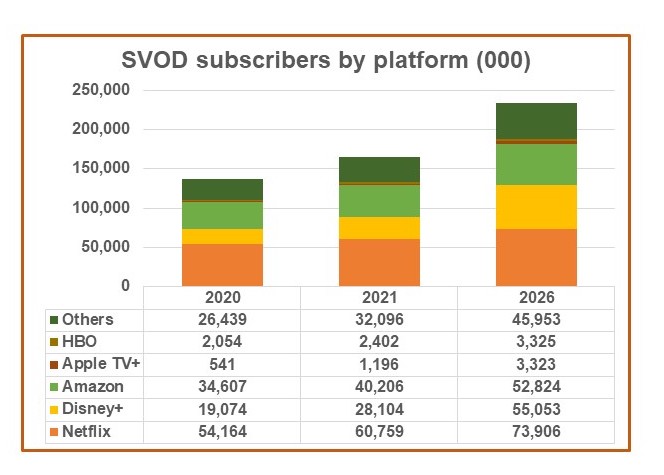 Estimated SVOD development in Western Europe (ths), source: Digital TV Research
Also the East European region is expected to report an increase in the paid video streaming in the above-mentioned time period according to the same source. In 2026, 40 million subscribers in Eastern Europe are expected to use the service, which is 2.5 times more than at the end of 2020.
The paid video development in this European region will be driven namely by new services Disney+ and HBO Max, but the strongest player will be Netflix. The number of Netflix subscribers is going to grow to 12.3 million in Eastern Europe, which is more than twice as many compared to 2020 (4.7 million in 2020). Disney+ is expected to grow to 7 million by 2026 and the number of subscribers of HBO Max is forecasted at 1.2 million.
The Russian market with the expected increase of 10 million subscribers and the Poland market with 6 million subscribers are expected to have significant shares in the growth.
Update on Thursday 7:50: Viaplay informed on Thursday morning that it had increased the number of subscribers by 25% for the first quarter of 2021 year on year to 3.147 million. It expects that this year its subscriber base will be expanded by at least 650 thousand people.
Source: https://www.mediaguru.cz