When it comes to online video offerings Czech Internet population prefers to watch films and TV shows. Trends in video content consumption, however, vary by age group. "The Internet Video 2019" study conducted by Nielsen Admosphere offers a detailed view of TV through the eyes of the often ignored group of respondents aged 37–51. TV viewers of this age category rarely watch TV shows in a foreign language and prefer comedies.
"The Online Video 2019" included 1,308 participants from a population of active Internet users, aged 15+.
In general, currently the most frequently watched types of Internet video content are films, TV shows and music videos. The specific ranking, however, differs for various socio-demographic groups. For example, men prefer to watch films (at least several times per week), then comedic videos, followed by music and news. Women prefer by far TV shows, then films and, finally, music videos. The 37+ group particularly loves to watch films; younger viewers watch mostly music videos and TV shows.
The most watched types of online video content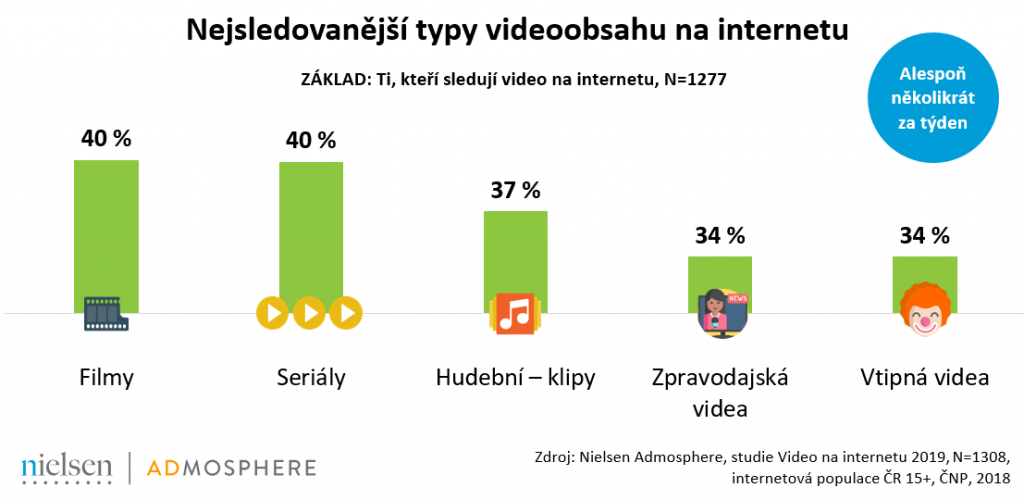 At least several times per week
Base: Those, who watch online video, N=1277
Films, TV shows, Music clips, News, Funny videos
An independent piece of the "The Online Video 2019" study is a survey of the relation between TV shows and respondents aged 37–51, the so-called Husak's children. Eighty-nine percent of such respondents, who watch video content of all types on the Internet at least sometimes, indicated that they watch TV shows when doing so.
But TV show viewers of this age category don't have a particular way of watching content. "A little bit against the expectation, a relatively frequent way of watching TV shows with the so-called Husak's children is binge-watching. This is preferred by 47% of them," according to Lucie Vlčková, Senior Research Manager, of Nielsen Admosphere. The remaining 53% prefer to watch individual episodes – thus (among other things) in a way television broadcasting offers it.
The so-called Husak's children prefer the genre of comedy TV shows (according to 72% of viewers), then crime TV shows (61%) and then adventure (47%).
The most popular are TV shows in the Czech or Slovak language – either Czech or Czech/Slovak dubbing production (90%). Only 6% prefer to watch TV shows with Czech subtitles, 2% with English subtitles, and 2% in English without subtitles.
What is your preferred way of watching TV shows?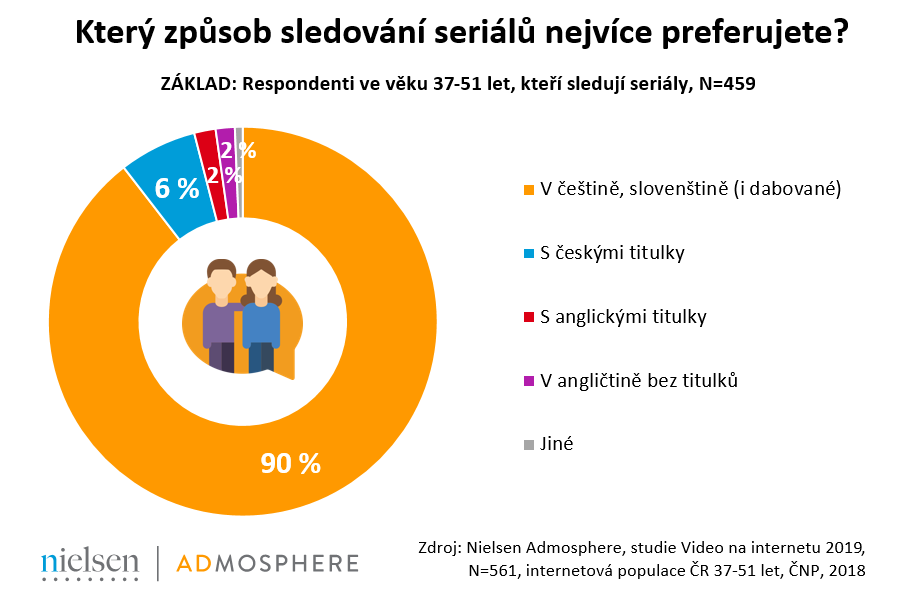 Base: Respondents ages 37-51 who watch TV shows, N=459.
In Czech, Slovak (even dubbed)
With Czech subtitles
With English subtitles
In English with subtitles
Other
Source: https://www.nielsen-admosphere.cz/press/video-na-internetu-2019-muzi-nejvice-sleduji-filmy-zeny-zase-serialy/