The increase in time we dedicate to media relates to the expansion of electronic devices in population, shows Nielsen Admosphere's data.
The average daily time Czechs spend with media grew to 7 hours and 14 minutes last year, which is a 14-minute increase year-on-year. Total media time includes media multitasking (such as browsing the Internet while watching TV). This is the outcome of Nielsen Admosphere's data presented by Hana Friedlaenderová at the New Media Inspiration 2020 conference held on Saturday.
Most of the above-mentioned daily time still relates to watching TV, which is followed by media consumption on devices such as PCs, mobile phones and tablets. The third place in terms of time spent is taken by radio and five percent of our daily media time is devoted to print media.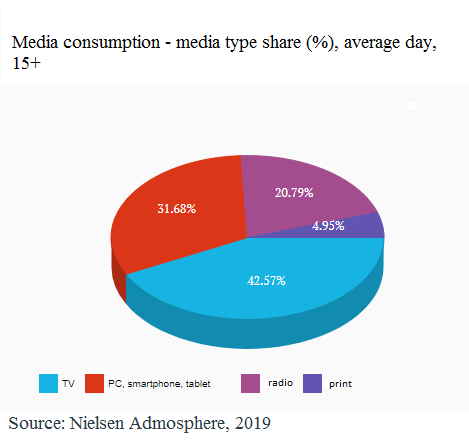 The increasing penetration of electronic devices in the Czech population, namely the growth in smartphones, smart TVs and IPTV (owned by about a third of households) results in the increased time-shifted viewing. Last year, it accounted for 14:21 minutes par day on overage, which is 6% of the total TV rating. Despite the increase in time-shifted viewing, the overwhelming majority of TV is watched live.
Average time spent watching TV was 3 hours and 43 minutes per day last year (comparable to 3:46 hours in 2018, 15+). TV is still watched by 93% of Czech households.
According to Nielsen Atmosphere's data, the rise of paid streaming services has not been reflected in any increased demand of Czech households for paid services. Last year, they were used by 3.5% of households, with the most popular services prepaid by the Czechs being Netflix (1.7%) and HBO Go (1.4 %).
YouTube (48%) is the most frequently watched unpaid web providing video content.
Nielsen Admosphere's data also shows that news are watched predominantly on TV (64% of households) and on the Internet (60%). 43% of Czech households watch news on their mobile phones. The TOP news sources include: Seznam Zprávy, TV Nova, Novinky.cz, ČT1 and iDnes.cz. Facebook is the sixth most frequently used news source in the Czech Republic.
Top 20 Daily Most Frequently Used News Sources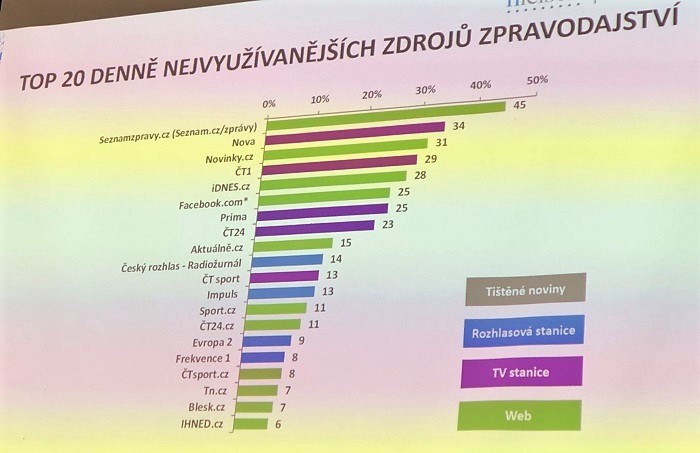 Print newspapers – Radio stations – TV stations – Web
Source: Nielsen Admosphere, presentation at the NMI 2020 conference
Source: https://www.mediaguru.cz