Kim Portrate
During CV-19, television has been delivering better value than ever before. The simple reason for this is co-viewing.
If you've been gathering around the TV with your family in recent weeks like I have, you're not alone. As we seek connection in this time of isolation, TV has cemented the role it plays in our lives as a place for families of all shapes and sizes to connect. It's called co-viewing, when people come together to share their TV experience and we have seen a big increase during the great lockdown of 2020, particularly in the evening.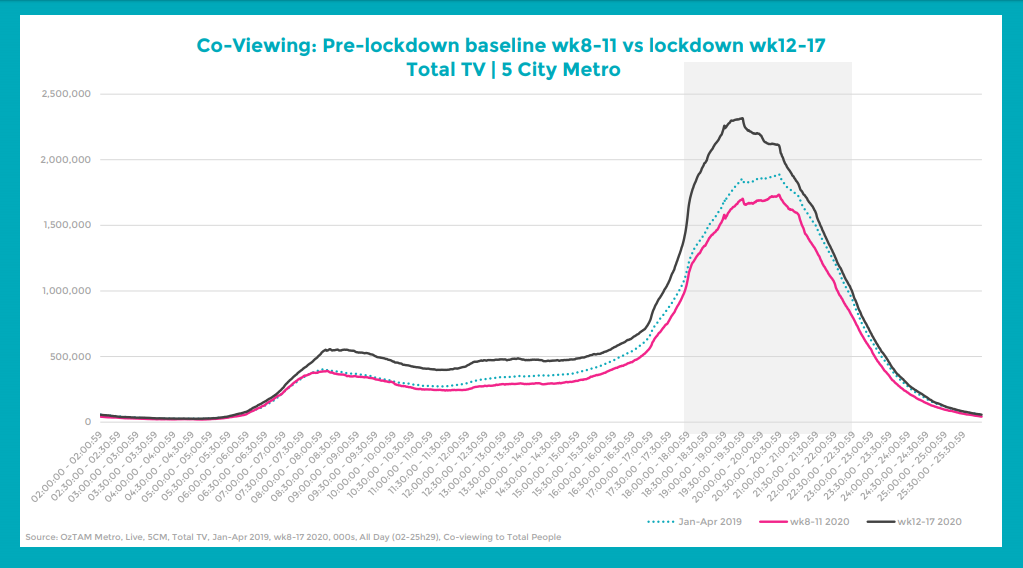 Family hour: 7pm – 8pm has become the key co-viewing period as people gather around the television in homes across the country.
The power of co-viewing can't be underestimated.
Unlike social video such as YouTube and Facebook, TV has the power to bring people together for a shared experience, whether that's Lego Masters (70% of its viewing during lockdown has been in the company of others), MasterChef (65%), Gogglebox (63%) and movies including The Castle (62%) and Guardians of the Galaxy (60%).
It presents an opportunity for brands to increase share of voice without spending an extra cent by speaking to multiple generations at once, sparking conversations that influence purchase decisions and driving behaviour change. With share of voice equating to market share, co-viewing is a powerful tool for brands looking to come out on top post-COVID.
One brand that understands co-viewing well is BCF. Usually over Easter, Australian families turn to BCF before packing up the tent and the esky and heading off on an adventure. But given CV-19 travel restrictions, this year, everyone was staying at home.
BCF replaced its scheduled retail campaign with a brand building initiative encouraging Aussie families to camp out in their backyards. By cleverly tapping into co-viewing audiences, the brand ignited a movement of backyard camping and sparked the sale of marshmallow forks, fire pits and kids camping gear. 
Source: https://thinktv.com.au/facts-and-stats/tv-bvod-consumption/