AKA (Association of Communications Agencies) published its annual report on advertising for 2019.
In 2019, CZK 119.5 billion were invested in advertising in the Czech Republic. This is an expert estimate of net marketing spend based on a research conducted among advertisers by AKA in cooperation with Nielsen Admosphere last March. It is 5% more than last year's 113.5 billion. "The shift is slightly above inflation and was reported for the fourth time in a row, which indicates that the industry is doing well," said Marek Hlavica, Director of AKA, at today's presentation of the latest figures.

The media (including traditional media types, such as TV, radio, outdoor ads and display advertising on the Internet) to non-media (other Internet advertising including searching, social networks or cooperation with influencers plus point-of-sale ads, PR or events) marketing investment ratio remains about the same, i.e. fifty-fifty. More precise figures on non-media investments are expected to be available in spring.
"TV is still the leader among media channels and despite the increasing spend on digital, for the time being there is no risk that the Internet might soon overcome traditional channels on the local market," said AKA. In price list comparison, TV has grown by 8% year-on-year, i.e. faster than other traditional media types, such as press, radio and outdoor ads. "A comparable growth dynamics is reported by non-media forms of communication, such as promotion events, direct marketing, social networks and content marketing, or consumer competitions," concluded industry representatives.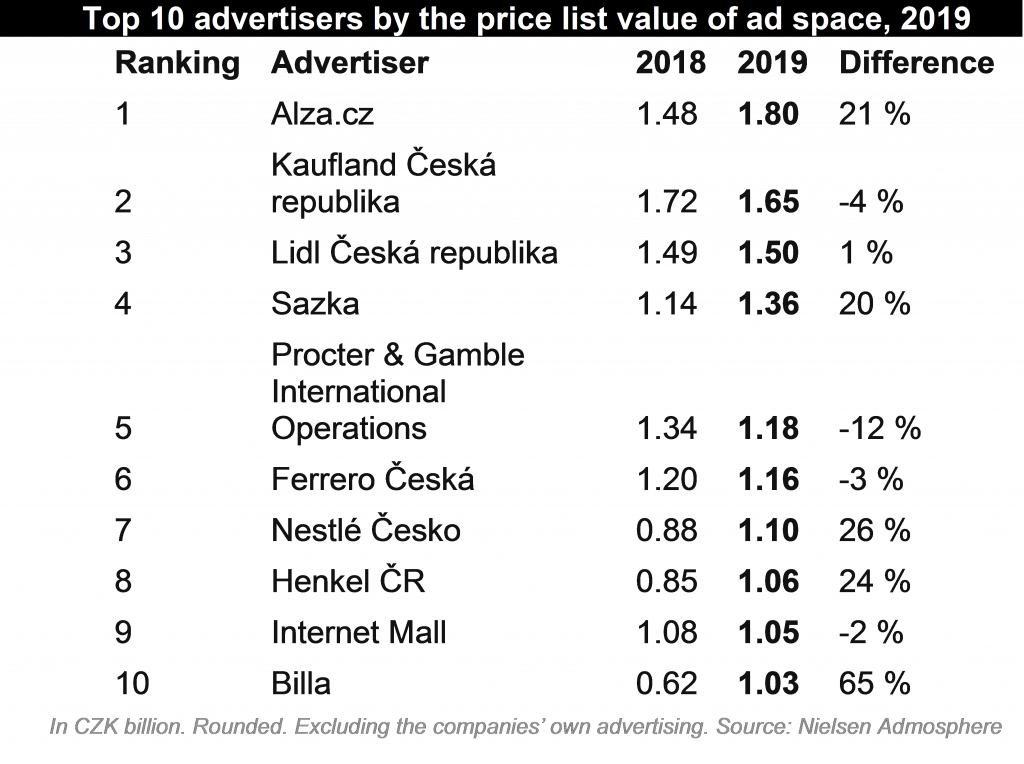 In terms of media spend, Alza.cz, Kaufland and Lidl are the three major advertisers of the year again, just their ranking changed compared to the previous year – the two German brick-and-mortar retailers were outperformed by the largest local e-shop. The top 10 of the major media advertisers includes Billa (which spent 65% more on communication than in the previous year) and Internet Mall; apart from traders, the highest ranks were achieved exclusively by food and fast-moving goods producers. "Sazka is the only exception in the top ten. Our effort to find prior years' champions – mobile operators and banks – in the ranking would have been vain for several years," said AKA.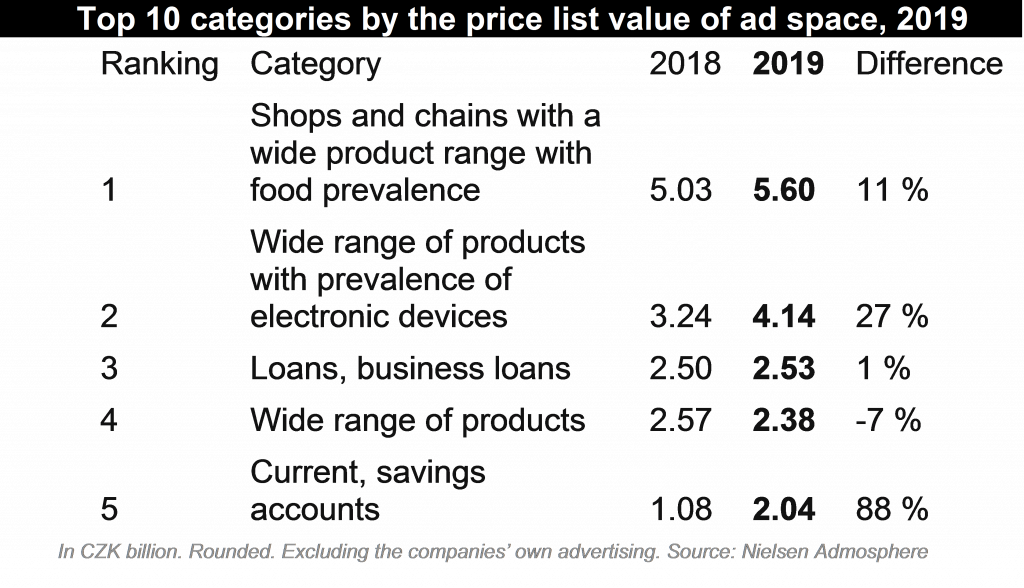 In AKA's opinion, this year the industry will discuss regulation of alcohol advertising, development of a Professional Communication Platform (refer to below), awareness initiatives against disinformation directed at advertisers, efforts to win support for creative industries from relevant ministries through the Czech Chamber of Commerce and, in a dialogue with clients, market standard innovations, specifically methods and models of agency ratings and orchestration of communication tools which keep growing in number.
Against Disinformation, for Self-Regulation
"There was a merger of several agencies, which, however, did not include any local investment," reminded Hlavica the recent mergers between Wunderman and JWThompson to establish Wunderman Thompson and between Young & Rubicam and a digital agency, VML, into a new entity, VMLY&R.
Another shift in the industry was the implementation of technical measures to block ad buying on disinformation webs and informing clients accordingly. "Cutting off these sources from digital ad financing is one of the ways to democracy and our industry declares its support for it," said Hlavica. AKA as one of three national associations of communications agencies in Europe joined the signatories of the Code of Practice on Disinformation. "The fight with disinformation is monitored by the European Commission to which AKA has to report on its activities in this field on a regular basis," states AKA, which considers the January conference in the Senate as the initial act to be followed by specific practical steps.
The industry may soon be impacted by the efforts of the Ministry of Health intended to regulate alcohol advertising, specifically to reduce the content of advertisements and the time when they are aired. "What the Ministry endeavours to do now is not a realistic solution to a problem with alcohol in the Czech Republic. Nowhere around the world these activities resulted in what the Ministry strives to achieve," said Hlavica, Director of AKA. AKA tends to seek self-regulation or other awareness campaigns, such as Not Drinking Is Normal. "Unfortunately, our proposals went unheard," says Hlavica.
Alcohol advertising should not show living creatures, thinks the Minister of Health.
Self-regulation has been applied in the industry in respect of marking commercial activities of influencers operating on social networks who are frequent ad carriers. The above-mentioned Professional Communication Platform was established to associate academic institutions (IKSŽ FSV UK), professional organisations (AKA, APRA) and market entities and start to push for self-regulation of the commercial use of influencers. The purpose is to clearly identify any paid content and differentiate it from the editorial one to comply with effective legislation. "SPIR is working on codification that will go through the approval process in the nearest future," said Jan Binar from McCann, President of AKA, informing on the progress of their efforts.
For Better Government tenders, Not Only in Brno
Public administration advertisers investing in information campaigns initiated tenders in the amount of CZK 2 billion last year, which was nearly double the prior year's amount. "Although the Czech Republic fails to achieve the share of communication tenders in the total market as the developed European countries do, i.e. 15-20%, the shift forward is obvious," thinks the Association.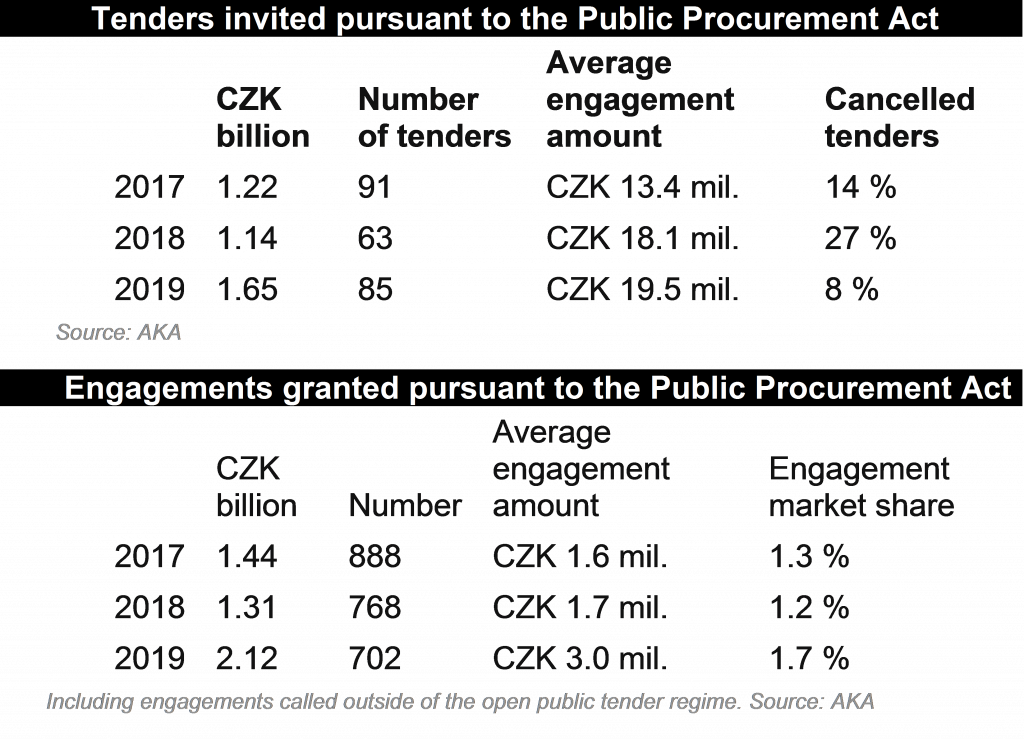 Professional associations of local agencies – both communication (AKA) and those focused on public relations (APRA) – have recently made Brno concerned. "There were no problems before but now, they managed to invite a tender for a creative solution at 100% cost. They even declared that if there were multiple highest bids with the same prices, lots would be cast for the winner," said Lucie Češpivová from Dorland, Chairwoman of the Czech Independent Agencies Section of AKA, referring to the tender in the amount of CZK 10 million invited in Brno for the selection of an agency to communicate parking changes in the city.
"In the past, AKA cooperated with the Municipal Authority of Brno on certain tender documentation to the satisfaction of both parties. The contracting authority is thus well-informed in AKA's opinion and its current approach is more than surprising. AKA addressed the Municipal Authority of Brno on 12 December to express its objections and offered methodological assistance in making adjustments to the tender documentation. There was no response from the city. Only after having delivered a reminder, we received a response a day before the deadline. The response by the Head of the Transportation Department of the Municipal Authority of Brno did not satisfy us – far from it. Contrary to the published tender documentation, he declared that the engagement did not contain any creative work," describes Hlavica, Director of AKA. According to the tender documentation, the future supplier is required to make videos, write for the web and participate in the communication strategy.
Why Aetna No Longer Wants to Work with Brno
Due to the approach adopted by Brno, the local agency Aetna, one of AKA members, has just decided not to continue their cooperation. Aetna received many prizes for its destination campaign called #BrnoTrueStory, including Effie for the most effective communication in public administration. However, it could not continue even though it was the winner of a tender which was held several months after the agreement between the city and the agency had expired.
"A new agency was not selected due to a legal mistake in the tender documentation. It took the city additional six months to invite a new tender together with lawyers. But the problem is that the tender is the same in fact, just with some cosmetic adjustments. Newly, a minimum amount was set, participants are required to prepare a more precise media plan and the formulation of the need to keep the defined brand book is less strict," said Roman Šťastný, Aetna's Executive Manager. "Given its very nature, the tender cannot be fair. And what is more important, time is flying and has no mercy. If the city does not mind to thwart its investment we have to come to terms with it. Fourteen months have elapsed between the agreement termination and the tender deadline. We can see such a critical gap in consistent brand building that there is nearly nothing to continue with. You can't but start from scratch again. That is what we let other people do. We are so proud of Brno brand book that we wouldn't change a single thing. We considered it to be a document that would survive and consolidate communication for the years to come – we didn't mean it to be a template for a one-year campaign."
"The recent approach of Brno to communication public tenders is unfortunate. Brno acts to its own detriment, i.e. regardless of all the people who are committed to providing the city with professional and effective communication," highlights AKA.
"Performance Marketing Got Depleted"
How do industry professionals look at the development of ad spend in future? "I can't see any downsides. Brexit is a local issue in a way. For the Czech Republic it is an opportunity if we have enough offices. We also need more confidence. What the Netherlands or Scandinavia are able to do that we can manage as well if we want to," anticipates Petr Chajda, Leader of Dentsu Aegis in the Czech Republic and Slovakia and Chairman of the ASMEA Committee (Association of Media Agencies). In retail consumption, Chajda can see advertisers' optimism in respect of media ad spend. David Čermák from Momentum Praha, Chairman of the Activation Agency Section of AKA, confirms the optimistic outlook, stating that non-media investments will increase by 5-7%, same as last year.
"The conversion cushion of performance marketing got depleted and a brand combat at the storytelling level has just started," thinks Jan Binar based on discussions with clients. He can feel that advertisers have more courage to take a healthy risk in communication.
"Brands invest in their values in order to build their positions for less favourable times. The brand value provides producers with more room for manoeuvre at times when sales go down and competition escalates," adds Hlavica, Director of AKA.
What Agencies Expect from Research
"We as media agencies will bring TV research into a sharp focus," said Ondřej Novák, Chairman of ASMEA, responding to Médiář's question. "At the same time, it is obvious that the "non-TV" part of research which is able to reflect the trends of non-linear online video content consumption in measurement (such as timeshifted viewing, HbbTV, IPTV, mobile viewing) will rise in importance. As media agencies, we would like to have consistent and comprehensive video content measurement across platforms and individual devices at hand, i.e. including all quantities that are important for media planning. In terms of technology and methodology, TV research goes full steam ahead of other common currencies and is on the top in Europe."
"Unfortunately, it is benchmarked with other currencies – Media Projekt, Radioprojekt and, to some extent, NetMonitor. Their quality is high, they have cutting-edge methodologies (after all, Media Projekt is the longest continuous research ever conducted in the Czech Republic, including sociological surveys; it has been carried out since 1994) but their practical importance for the sector is questionable for various reasons. At least in case of Radioprojekt – although we perceive the changes in ownership taking place on the radio market and we do not play them down – certain (at least ideological) direction to real measurement, which is by far not unusual in Europe, would be worth following."
And what about the Internet measuring? "The first problem is the definition of the Internet and what should be measured. Online environment has an essential generic problem – the field of measurement is nearly infinite. An important aspect for agencies is that records should include crucial players – Google, social networks, YouTube. In general, there is an enormous global problem to include these players in measurement just because they don't need or want to. Even though the playfield is marked out, another issue is what to measure there – display, RTB? Or quantities such as impressions, Internet GRP? It will be complicated to make up measurement that will be helpful for everyone. Prospectively (which I emphasize), we tend to see a possible way out in a platform, such as video content consumption, on which measurements might mingle and industry associations might cooperate because this may be what major players in all positions – media, agencies, advertisers – might need. However, we are not living in an ideal world and there are plenty of business interests."
Source: https://www.mediar.cz/do-marketingu-slo-loni-v-cesku-pres-119-miliard-kc/