It is advisable to retain communication activity, especially in a recession, as it is important for a brand's market share. This is a message conveyed to marketers by Mark Ritson.
Nobody is able to predict now when the current recession relating to the Covid-19 pandemic will come to an end. The situation will calm down with vaccination, which is likely to be available "later than we assume". Recession thus does not have to end in the following year, said the marketing expert Mark Ritson in a webinar organised by the European trade association of TV & radio sales houses (EGTA) and provided by the Association of Commercial Television (AKTV) in the Czech Republic.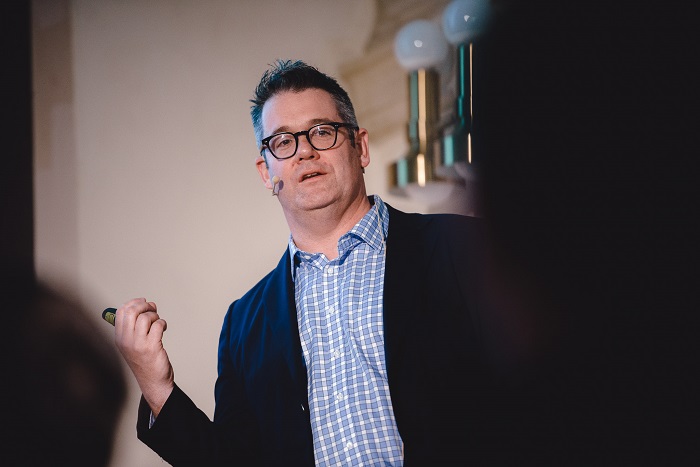 At the moment, communication activity is impacted by different positions of individual advertisers. They include three major groups: advertisers who put a freeze on their marketing activities (such as airlines); firms that had to respond and adapt their strategies to the current situation (gastronomy); and companies generating profit from the pandemic and becoming stronger (e-commerce).
Despite deteriorated conditions, Ritson recommends continuing marketing communication, predominantly in a recession. He considers the excess share of voice (ESOV) to be the key indicator representing the difference between the share of voice and the share of market. If advertisers do not stop their communication, they may increase their market share. "If other brands in the category reduce investments by 50% and our brand keeps the investment it has a positive effect on growth in our market share," described Ritson. Using an illustrative example, he showed that if the existing investments are retained and other brands' investments are reduced by half, the increase in the market share is ten percentage points.
The growing time spent by users with the media is specific to the Covid-19 pandemic. In some situations, you can benefit from a more favourable price for ad placement. "There is a great opportunity for brand building," said Ritson. He is aware that the recommendation is easy to give but more difficult to implement. Data on positive effects of communication activities in a recession is, in his opinion, demonstrable and may be supported by examples of major economic recessions in the past century.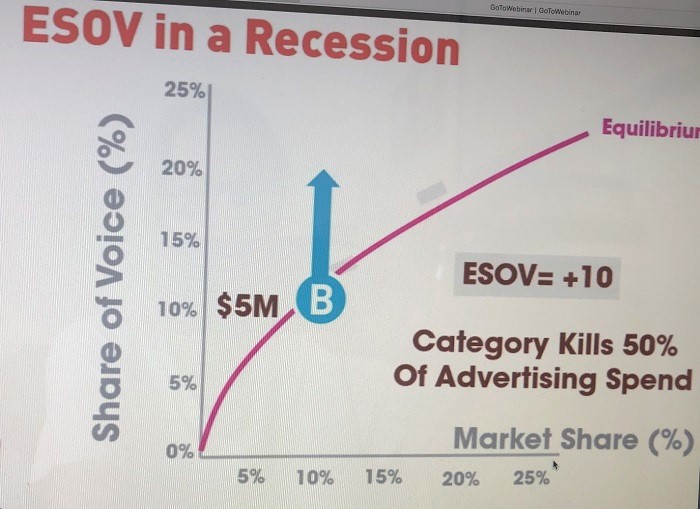 An example of ESOV growth during recession.
Ritson believes that TV should always be included in the media mix because TV screens account for the largest portion of the total daily time spent watching video. According to the UK research data provided by the Broadcasters' Audience Research Board (BARB) for 2019, the linear TV (live TV) has approximately a fifty-percent share in the total time dedicated to watching video. TV's position is even stronger in terms of ad videos seen, with its share exceeding 80%. TV in combination with other channels, mainly online video (and specifically YouTube) is also supposed to be effective.
A similar recommendation for active communication even in a recession was given by Peter Field, another marketing expert in communication effectiveness who delivered his speech in EGTA's and AKTV's webinar in spring (https://www.aktv.cz/en/peter-field-brands-have-to-invest-despite-the-crisis-otherwise-they-will-go-weak-2/).
Source: https://www.mediaguru.cz